This week's Design Team Spotlight is:
Kristin Tweedale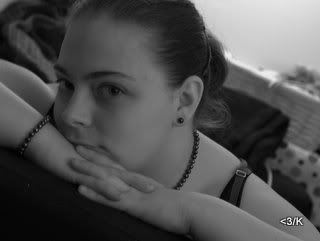 hihi everyone! I'm Kristin, I'm a 23 year old Jersey girl; going to school at Rutgers University--finishing up my degree in political science and women's & gender studies. I live with my boyfriend of seven years in a little apartment in Somerset, NJ. I love taking pictures; I'm a photography fiend, I have a
Sony
A-300 and I try to take it everywhere I go. It can be a little difficult finding pictures to scrap when you don't have kids; so this helps me to keep a good stack of photos at all times. If you'd like to know more about me, I keep a blog over at
http://www.rukristin.blogspot.com
and I love meeting new friends; so feel free to drop me a line over there!!
Thank you so so much to Miss Tamara for spotlighting me on her wonderful blog!
Kristin's Favorite Recipe is #30, which was to use Kraft cardstock, brads and lace... here's what Kristin I made.